Ordinary Seaman Orchard joined his next ship, HMS Daphne, on 2nd May 1867, the day after leaving the St George. At the time, both ships were moored at Portland.
The Daphne was a very different vessel. Classed as a Sloop, she was 187ft. long, 36ft. broad, and was rated at 1,574 tons. Fully-rigged for sailing, she was also steam-powered, being driven by a screw propeller. At the time that George Orchard joined her, she was less than one year old, having been launched at Pembroke Dockyard on 23rd October 1866.
George Orchard's entry in the Ship's Muster shows that he had grown since joining the Navy. His height is now given as 5ft 3.5ins. Other information, not given on his original Continuous Service documents, states that he had been vaccinated against smallpox, his religion was Church of England, he had no previous trade when he joined the Navy, and he could read and write.
Accidents continued to happen, even on a new ship, as the Log reports that on 2nd July 1867, whilst at Devonport, Stoker Richard Osborne died from injuries received when a bag of coals fell on his head.
Soon after George Orchard joined the ship, his Naval career started to change from the routine which had been followed on board St George. On Saturday, 13th July, 1867, the Daphne formed part of the Fleet drawn up at Spithead for a Royal Review, as the Ship's Log records:
"7p.m. Royal Yacht 'Victoria and Albert' with Her Majesty Queen Victoria, His Imperial Turkish Majesty the Sultan, and His Imperial Highness the Viceroy of Egypt, accompanied by the Royal Yacht 'Osborne' and 'Fairy' with the suites, the P&O ships 'Ripon' and 'Taryore' with the Lords and Commons, HM Ships 'Terrible' and 'Gladiator' passed down the line from Osborne, the ships manning rigging, cheering and firing Royal Salutes in honour of Their Majesties.
"10p.m. Fleet illuminated."
A few weeks later, Daphne set off on a tour of duty which was to prove the most interesting part of George's Naval career. The ship's Muster was called every two weeks, and gives the location of the vessel on each occasion. This shows that she had moved from Portland to Plymouth by 30th June 1867, where she was still anchored two weeks later. After a visit to Spithead she returned to Devonport in time for the 7th August Muster, but shortly afterwards she had left England completely, as the next entry, on 22nd August, gives her position 'At Sea', and the latitude and longitude figures show that she was in the Atlantic to the North-West of Spain.
The ship sailed down the west coast of Africa, calling at Sierra Leone, rounding the Cape of Good Hope at the end of October 1867, and visiting Mauritius.
Unfortunately soon after rounding the Cape Daphne ran into a severe gale, and Sub-Lt. Orton, who at the time was officer of the watch, was washed overboard and drowned. Because the ship was under sail it was impossible to turn back, and would have taken far too long to raise steam and return under engine power. Daphne remained at sea until 28th November when the Muster was called at Bombay, where she remained for a few weeks.
A Muster at sea was called on 26th December, to the south of the Persian Gulf. From 31st January to 14th May 1868, the ship's location was given as 'Ansley Bay'. Annesley Bay is just south of Massowah, in modern Eritrea, but in 1868 it was Abyssinia.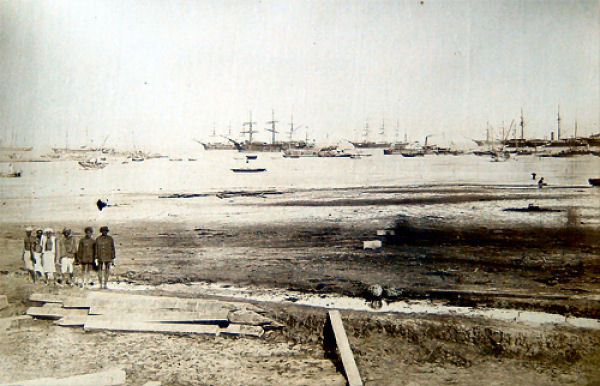 Annesley Bay, 1868
The Daphne's purpose in being here was to support Lieutenant General Sir Robert Napier's Abyssinian Campaign, one of the most bloodless in which the British Army has ever been involved, casualties amounting to two killed and twenty-seven wounded. The campaign lasted officially from 4th October 1867 to 19th April 1868, and arose because King Theodore of Abyssinia had imprisoned various foreign officials, including Captain Cameron, the British Consul, in November 1864. Negotiators secured their release in March 1866, but they were recaptured, along with the negotiators, a month later. After several other British citizens had also been captured, and a period of unsuccessful diplomatic moves, Queen Victoria declared war on 19th November 1867. Sir Robert Napier, who commanded the Bombay Army, landed in January, 1868, at Annesley Bay. He gathered a force of some 12,000 soldiers and 1,981 Naval personnel, who, commanded by Captain Fellowes RN, took charge of twelve 12 pounder rocket tubes. Several ships provided men, including Daphne, who contributed 170, although whether or not AB Orchard was one of them is not known. The force advanced the 300-odd miles to Magdala, fighting the battle of Arrogie on 10th April, and entering Magdala itself on the 13th. King Theodore had committed suicide, and so the prisoners were released and Magdala razed to the ground on the 17th. The war officially ended on 17th April.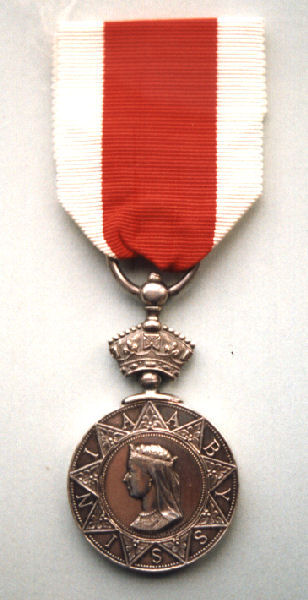 The Abyssinian War Medal was sanctioned on 1st March 1869, and awarded to all Army personnel who took part in the campaign, and the crews of all Naval vessels on duty in the Red Sea and to those whose service was in any way connected with the war. William George Orchard received his medal on 19th May 1870.
This was not quite the end of the affair for the Daphne, for the Log entry for 23rd May 1868, when the ship was at Suez, records "Received on board for the Indian Government one hundred and ninety barrels said to contain Austrian dollars for the Abyssinian Expedition to be delivered to the Officer Commanding in Ansley Bay."
Maria Theresa died in 1780, but coins have been produced in her name from 1781 to modern times.

Thalers dated 1780 continued to be struck within Austria for several years after her death, and then afterwards at mints located in other countries.

These coins were initially used as a widely accepted trade coin in many areas that lacked a firm local coinage.

More recently, it has been restruck as a bullion coin and a collectors item.

The Krause-Mishler catalog estimates that over 800 million have been produced to date, at mints that include Prague, Milan, Venice, Rome, London, Paris, Brussels, Florence and Bombay.
Two Musters for 25th June and 9th July 1868 were called when the ship was at Aden, and entries for the rest of the year show 'At Sea', except for 9th December when it was called at the Seychelles. Entries in the Ship's Log, however, show that the crew were having a very active time. Also, a book written by the then Captain of HMS Daphne, and recently reprinted, gives a vivid description of the ship's adventures.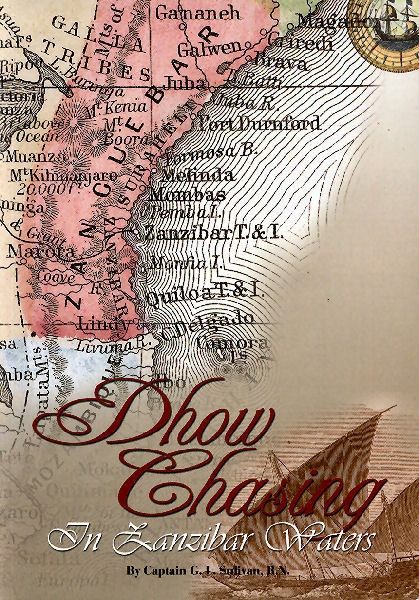 In the mid-19th century, the slave trade between West Africa and America no longer existed, but in East Africa the situation was different. In particular, Arab vessels were carrying negro slaves between the continent and Arabia and other parts of the Middle East. Also, many pirates operated in the area, threatening merchant vessels. The Royal Navy saw its task as being to control both these activities, and hence kept a strong 'policing' force always in the Western Indian Ocean.
Daphne left Aden on 18th July 1868, and visited Mahe in the Seychelles, Tamave in Madagascar, Mayotte in the Commoro Islands and Mozambique. Finally, she arrived in Zanzibar on 12th October.
The Ship's Log records that on 20th September 1868, when the Daphne was between Mayotta and Johanna, in the Mozambique Channel, two dhows were sighted. These were chased and brought to when 2 shots were fired. The dhows were boarded, but on this occasion do not appear to have been carrying slaves.
As a change from dhow chasing, the ship was dressed overall on 28th September 'in honour of the Coronation of Her Majesty the Queen of Portugal'.
The next recorded activity involving dhows was on 7th October, between Zanzibar and Mozambique, when a slave dhow was boarded 'name unknown'.
Sultan Burghash bin Said had a treaty with the British Government by which he was supposed to be controlling the Arab slave traders working out of Zanzibar, but in fact he was making a great deal of money from the traders!
Whilst in Zanzibar Capt. Sullivan made it clear that his intentions were to leave the port and sail straight to Bombay, whereas in fact, when Daphne sailed on 21st October, once out of sight of land she headed north along the coast.
Between 26th October and 4th November, when Daphne was sailing between Zanzibar and Bombay, a great deal of dhow-chasing took place, as can be seen from the entries in the Ship's Log:
Monday 26th October a.m. Sighted 3 dhows and 2 cutters. Took dhows and cutters in tow.p.m. Two dhows broke adrift.
4.40p.m. Fired a gun. Came to.
6.00p.m. Cast off dhow.
Tuesday 27th October a.m. Observed 2 dhows ahead.
11.15a.m. Mustered at oars.
1.40p.m. Sent galley and whaler to board dhows. Took 2 dhows in tow.
Wednesday 28th October p.m. Sighted sail on starboard bow.
4.50p.m. Stopped. Manned and armed boats. Sent whaler to board dhow. Dhow ran on shore and was wrecked. Whaler returned with 7 slaves.
Thursday 29th October p.m. Weighed [anchor] and proceeded to chase dhow. Dhow ran on shore. Manned and armed boats and sent them to take dhow. Boats returned having captured 1 slave and destroyed dhow.
Saturday 31st October 2.45a.m. Sent boat in chase of a dhow and captured her. Got 2 dhows alongside. Employed getting out masts and sails and clearing dhows. Received slaves from dhows. Burnt 1 dhow. Observed dhow with cutter in chase. A slave swam off to the shore. Sent galley cruising. Cleared and burnt 1 dhow.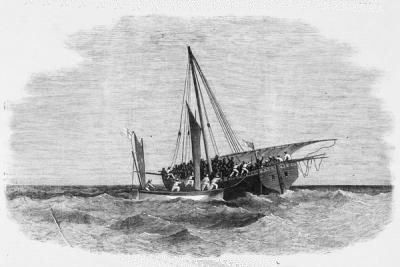 The cutter of HMS Daphne capturing a slave-dhow off Brava.
Captain Sullivan's book records that as soon as the Arab ships saw the Daphne, they would run their boat ashore and wreck it before the Naval cutter or whaler could negotiate the offshore reefs. By the time the sailors reached the shore the slaves had mainly run off and so there was no evidence with which to arrest the Arabs.
Captain Sullivan therefore decided to change his tactics. He found a part of the shore where a headland jutted out into the sea, and positioned the ship's boats behind this, where the approaching Arab ships could not see them. Daphne herself moved out of sight over the horizon. When an Arab dhow spotted the boats, it would turn out to sea, and so ran straight into the Daphne. These tactics proved very successful, as the next entries in the Log show.
Sunday 1st November 9.30a.m. Hauled 2 dhows and cutters alongside. Received 156 slaves from her and 15 from the 2nd dhow. Cleared and burnt 1 dhow.
Tuesday 3rd November a.m. Died, 1 slave child. Sent party to pump out dhow. Received on board 25 slaves.
Wednesday 4th November 5.20a.m. Sighted 2 dhows. Lowered whaler and 1st cutter and boarded. Fired 2 shots at dhows. Whaler brought dhow alongside. Received 35 slaves.
10.30a.m. Hauled off and set fire to dhow. Hauled alongside galley and dhow and received 26 slaves from her. Hauled off dhow and burnt her.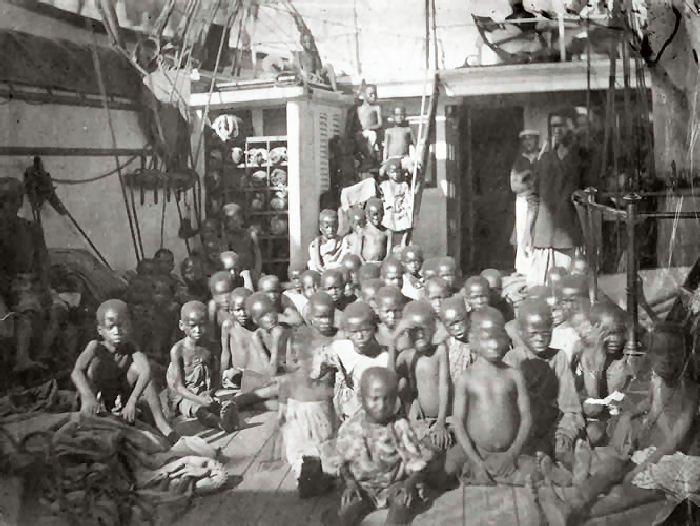 Photograph taken on board HMS Daphne, 1

st

November 1868
The next recorded landfall is the Muster called 9th December at the Seychelles. Whether or not Daphne had nearly 200 slaves on board until then is not clear, but the Log entry for the following day states 'Employed landing slaves and cleaning ship', which was probably necessary by then!
By 2nd February 1869 Daphne was back in Bombay, where she remained until 25th March, leaving there in the direction of Aden. The chasing of slave traders continued, although with none of the success of the earlier campaign. On 9th April a dhow was boarded, but it was found to be trading between Bombay and Muscat under English colours. On 17th April the ship was at the island group of Kuria Muria, part of the Aden colony. A dhow was sighted and Daphne gave chase, using steam power this time. Between 20th and 24th April, en route for Maculla, four or five dhows were sighted, most of them being boarded, although the Log makes no mention of any slaves being freed.
On Tuesday 27th April the ship was honoured by a visit from the King of Maculla, at which place she stayed until following Friday, heading back for Aden, where she arrived three days later, having 'lowered whaler to communicate with dhow' on the way. After a week at Aden Daphne was off again, this time heading for the Seychelles. Several dhows were checked on the way, but they were all found to be "lawful traders".
A week was spent in the Seychelles, the ship leaving for Zanzibar on 16th June, arriving two days later. The next day, Saturday 26th June, saw a change in routine as the ship was dressed with masthead flags as it was the Sultan of Zanzibar's Coronation. The French corvette 'Volta' fired a 15 gun salute, and the Sultan's own frigate replied with 17 guns. Daphne 's contribution is not mentioned.
On the following Thursday the ship left Zanzibar, arriving at Darra Salaam the next day, returning to Zanzibar a few days later. Throughout July, August, September and October Daphne visited various locations in the area of East Africa, such as Mozambique, Mafamade, the French colony of Mayotte, Epidendron, and Zanzibar again. There are only two other mentions of dhows being boarded, on 2nd and 3rd August. Finally, Daphne and her crew left the area for the final time, arriving back in Bombay on 11th October.
In all HMS Daphne had been responsible for the release of over 2000 slaves from Arab ships.
November was spent in the Persian Gulf, Musters being called at Bahrain on 18th and 25th November. Daphne then returned to Bombay, calling at Karachi en route. January and the first part of February 1870 were spent in Bombay, and then the ship left India to return to England. Before the ship left Bombay Captain Sullivan handed over command to Captain Douglas, and returned to Endland where he was involved in a Parliamentary Commission's enquiry into the Arab slave trading activities. (As a result of this enquiry the trading was reduced, but was not finally abolished until the military activities of the First World War in East Africa.)
The Muster entries were all taken 'At Sea' between 10th February and 5th May 1870, but the entries in the Ship's Log record yet another new experience for the crew. Between 10th February and 2nd March, Daphne sailed from Bombay to Aden, and then over the next ten days sailed up the Red Sea towards Suez. At 6.55a.m. on 14th March, she entered the Suez Canal, (which had been opened the previous year), completing the 100 mile journey to Ishmailia the following day, arriving at Port Said a day after that. The ship stayed at Port Said for a couple of days, and then left for Malta, arriving at the island on 30th March. After a week there, she sailed on 6th April, arriving at Gibraltar on 18th April. Apparently Daphne used her sails to cross the Mediterranean, as the journey would have been much quicker with the engines. Gibraltar was left behind on 20th April, and the ship arrived back in England on 10th May.
Within two weeks, on 24th May 1870, George Orchard was signed off from the Daphne, thus ending what was probably a very interesting and exciting time for the twenty-year-old man.
Daphne was sold out of Naval service on 7th November 1882.
Note: I have a picture of HMS Daphne but for copyright reasons cannot reproduce it here. If you would like a copy for your personal use only please e-mail me.
...
...

Back to Chapter Index